Adrian P.
Clyde M.
Darryl C.
Diana M.
Jeffrey T.
Joan A.
Jocelyn B.
Kristine D.
Lhira A.
Maria Edlyn M.
Marinela G.
Melanie L.
Mhyndyn M.
Michele G.
Mike P.
Niel Paulo H.
Olivia S.
Reliza P.
Rosefely F.
Sharmaine M.
Vanessa C.
My study permit got approved in 1st attempt. I am really happy and fortunate that I selected such an extremely dedicated and professional immigration consultant that helps me to fulfilling my dream of studying in Canada. I can feel that Ms Rhoda were preparing my file with their 100% effort and dedication. I am fully satisfied and happy with Best Migration for their proper guidance and help in getting my study permit approved. I strongly recommended their firm to my all friends, family and everyone who needs the right and constructive assistant regarding Canadian immigration. I am grateful to the entire team of Best Migration Canada. Thank you Ms Rhoda and Mr Cesar from the bottom of my heart.
The Best Migration Canada is very experienced and specialized in the field of "student Permit". This group did the job and I got the best possible result, and this was a surprise for my friends and family as well we were so frustrated that we thought it was impossible. They are the best, most specialized and most responsible in their work. Thank you very much.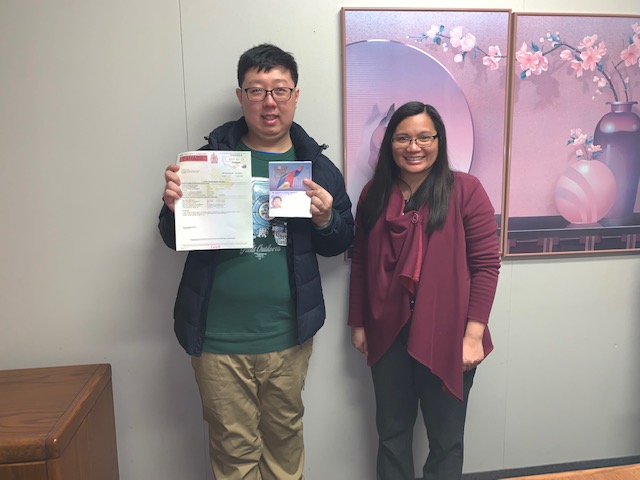 Best Migration Canada handled our case with full experience and professionalism. While submitting supporting documents, Ms. Rhoda who were handling our case were responsive to our comments and accommodated our requests. There was no process delay from their side and I hardly called them even though I am in different time zone in the Philippines. Everything was done in email with point to point discussion. We thought it's going to be tough and provided all the available info, supporting docs and with in short period of time Ms. Rhoda did a good work in presenting solid file. I cannot thank you enough for their service.
Ms Rhoda of Best Migration Canada help me filed for a student permit. Everything was done via email and Skype. Communication was excellent. I have already referred them to my family and friend. Thank you very much.
I am very glad to have chosen Best Migration Canada Immigration firm for my Visa application. My case was a little complicated but Ms Rhoda handled my application perfectly with the proper documentation and I was approved within a matter of 2 weeks. They were also very responsive and properly answered any doubts I had. I will definitely go back to them when I have to begin my PR application. Once again, thank you Best Migration Canada!
We greatly appreciate the time and energy of Ms Rhoda spent on our application to obtain the study permit. I erroneously missed out on some important information in the study permit application form while applying for the visa first time. She was very knowledgeable and clear and honest in her advice. We must say, the level of professionalism demonstrated by the firm is second to none and we are extremely pleased with the service. Thank you for everything you have done for us.
I had an amazing experience with Best Migration Canada. I dealt closely with Ms Rhoda and Mr Cesar who is very knowledgeable, professional and a great communicator. The process went smoothly and my whole family received our PR confirmation 4 months after applying ! Thank you Rhoda and Cesar. I highly recommend them based on my personal experience.
Dear Best Migration Canada & team, I would like to take this opportunity thanking Rhoda and Cesar. We really appreciate the effort you and team have put into this application. Our file was handled by Ms Rhoda. Mr Cesar put full effort to this assignment. Your level of excellent service, highly professional, honesty, and commitment is outstanding. I know you have been putting in a lot of extra time, above and beyond the call of duty, and this has truly helped to ensure that we meet our benchmarks in a timely fashion every time. We are deeply happy to see your hard work resulting in such success for my visa application. Now, I'm here in Canada. Thank you again, for your help with this case, the result was great, and we appreciate your honesty with the situation. We will gladly recommend your services to any of my friends or family that may ever need it. Thank you all.
Had a fantastic experience with this firm for my visa application. From the first virtual meeting they were very professional yet personable. Their file submission system is streamlined and they offer very clear instructions throughout the process. Ms Rhoda, the consultant processed my case was very professional and prompt to answer my emails and address my concerns. Thanks to them, I was able to obtain my visa ahead of the expected time, thank you and more power!
Best Migration Canada is excellent Immigration consultancy firm. Ms Rhoda and the entire staff was very knowledgeable, patient, responsive and guided us through the process very well. They were very thorough with filing our case for my Study Permit and diligently followed up. If you are looking for immigration advice, look no further, without doubt this is one of the best firms I have come across after doing my research. Thank you Ms Rhoda and team for taking great care of us!
My experience with Best Migration Canada Immigration has been awesome. She really took her time to help me and get everything together. Every single question and concern is very detailed on how I should go about providing and sending all the necessary information for my file. Upon submission of our application, my visa application got approved in under 1 months! Thank you all so much for not only helping and guiding me through this process, but also for having the patience to get me sorted out in Canada!
The best immigration company i have been working with. A very responsible team, they have provided me all of the information needed, document preparation and reminding of special dates in a very professional manner. they also provide me updated information from Canada immigration. I am very much appreciate with all the helps and supports especially from Ms Rhoda. I would recommend this company for anyone looking for help on their immigration process!
I had a great experience with Best Migration Canada team. They helped me with my In-Home Caregiver Application. Ms Rhoda helped me out with this situation when I almost lost hope and I got my Working Visa. Also a big thanks to Mr Cesar for the help and support during this process. I recommend Best Migration Canada to all who need help with their immigration.
Strongly Recommended! The team at Best Migration Canada proofed to be extremely responsive and supportive in processing of my student permits. Every question was always answered promptly and in details; the submission time was extremely tight, but they were able to meet our expectations.
I had a very good experience with Best Migration Canada team. They are very professional and helped, guided me with my visa applications and all went smoothly. I highly recommend them based on personal experience!
Ms Rhoda is amazing! She was very informative with all of the questions I had regarding my Visa application. She was very understanding and extremely diligent in handling the specifics of my case. I could not be happier with her services and the firm. As a result of her amazing services, I Would highly recommend her!
Great service from Best Migration Canada and team specially Ms Rhoda. Great personality and awesome experience. Thanks guys for your support. I strongly recommend Best Migration. All the best team.
Ms Rhoda at Best Migration Canada and her team process my Study Permit. The whole process took about 3 months. Ms Rhoda was quick and responsive to all my questions and extremely helpful regarding my concerns. They are quite professional and very knowledgeable which resulted in a positive answer. I'm very thankful and glad I chose them. Excellent service. Thank you.
Best Migration Canada was recommended to us through a close friend. I contacted Best Migration Canada and our application fell into place one step at a time. It took only a month for our application to be approved from the time it was submitted. Just follow their advice and you will be in good hands. Many thanks to Ms Rhoda, our counsel who handled our case. Great job!
I couldn't be any happier with Best Migration Canada! Most of our family member are through them and now living here in Canada. They are quick, precise, efficient, insightful and immensely helpful. Ms Rhoda and Mr Cesar were nothing but helpful and always available to answer questions. Not only did they assist with filling out the applications required but coached us through building the strongest application we could which resulted in an extremely quick acceptance! I highly recommend Best Migration Canada for anything Immigration related! Cannot thank them enough!
Ms Rhoda and her team has provided an excellent service. They are very helpful and responsive to all of our questions and concerns about immigration. I have dealt with several different immigration consultant but was dissatisfied from any of their service and end up wasting my time and money. I would highly recommend Best Migration and her team for any kind of immigration problems big or small!